For just over $100, you can go down to your local computer/consumer electronics store and pick up a nifty little Linksys IP webcam that does a fair job as an indoor security/monitoring solution. However, I ended up using one outside, mounted under the eve of my garage.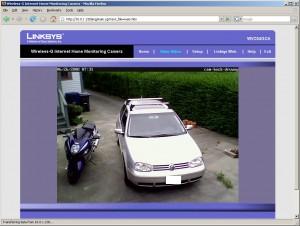 The only problems I've seen with using the camera outside are: 1) the motion detection system is way too sensative to things like ambient light changes (clouds moving overhead, cars driving by shining reflections or shadows, etc.) and if I turn on the motion system on I'm always getting alerts… and 2) the camera is not sealed for outdoor use so if you don't mount it in a well protected area, expect your IP webcam to be converted into a nicely mounted piece of black plastic artwork in no time.
The thing runs off 5v and just about 1A and has both wired Ethernet and WiFi connectivity options. Because I have my main network switch mounted in my garage attic, I opted to go with the wired option, but I didn't want to run network and power, so I improvised my own non-standard PoE system.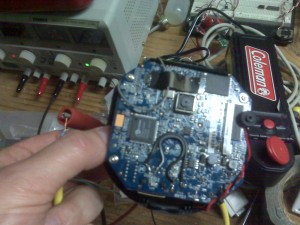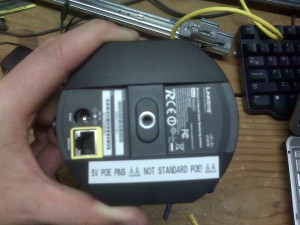 I've had problems getting decent monitoring software to work with this camera, but that's ok because the camera comes with some alright software of it's own. Aside from the motion detection and alerting capabilities built right into the device, there is also some basic monitoring/recording/playback software that comes with the camera that will support up to 9 IP cameras. Even though it's not documented (or maybe it's just hidden well), you can also directly pull images and video feeds via special URLs (no audio though).
Image snapshot
http://camera/img/snapshot.cgi
Options: ?size=S&quality=Q
Size:
1 = 160×128
2 = 320×240
3 = 640×480
Quality:
1 = very high
2 = high
3 = normal
4 = low
5 = very low

Motion JPEG
http://camera/img/mjpeg.htm
http://camera/img/video.mjpeg
http://camera/img/mjpeg.cgi

Video feed
http://camera/img/video.asf
rtsp://camera/img/video.sav
With all this great cheap technology at my disposal, I put it to work right away. I wanted to find out which pet of ours was leaving little presents for us on the stairs. Literally minutes after setting up the poo cam and going out for a walk, I had my answer.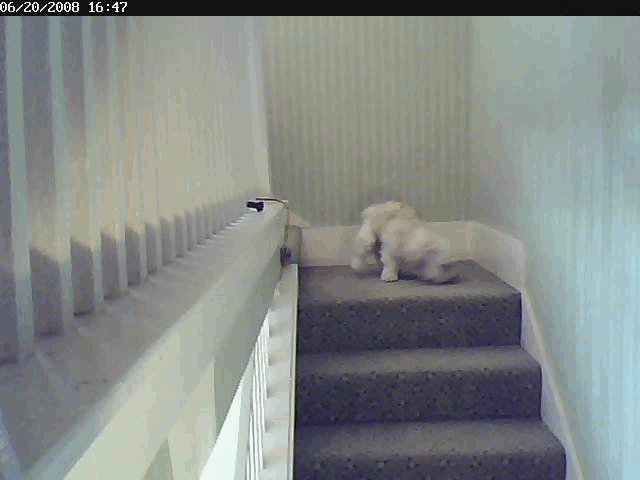 I got the image stream on my phone via email alert. He was quite surprised when I came straight in from my walk and kicked his little ass. It was like "How did you know!?". On that day I truly became doggy god to him, but that hasn't stopped him from slipping up occasionally. I can't wait to rip out the carpets and replace it all with hardwood. Pets and carpet just doesn't mix no matter how well trained your pets are.
Tags: cameras, motion detection