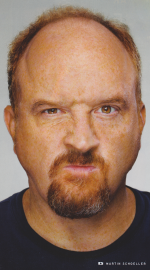 Ok, Louis CK has beaten the Internet.
His new standup record Word – Live at Carnegie Hall is absolutely not available for download theft anywhere. I sometimes "sample" stuff first, then if I like it enough, I go try to purchase it on Amazon Music to get a legit but DRM-free copy. Unable to find anything anywhere at all the usual haunts, I remembered that he sells his own stuff for super cheap on his own website.
I went to louisck.com and paid the $5 for his album via PayPal, then just downloaded the MP3s! No DRM, no fuss, no bullshit. The whole process took less than 30 seconds… or as much time it would have taken to search for a torrent and download. Now that I have it, I wouldn't dream of putting it up online for jackasses to download for free. The price is right and the process is simple. He's absolutely beaten the Internet by simply being cool about it.
On the other hand, record companies still = fucktards.