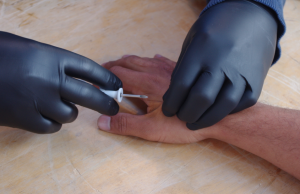 This post is for the people at ToorCamp 2012 that received RFID implants at the Implantation Station. Below are links and information cobbled together based on questions asked of me in person and in the ToorCamp Google Group post;
EM4102 – You were implanted with an EM4102 family tag. Readers that support this tag are abundant, in commercial and OEM circuit board formats. Here is the data sheet; http://www.emmicroelectronic.com/Products.asp?IdProduct=282
Preparation – Be well hydrated and healthy; i.e. not sick. Iodine will be used to cleanse the implant location and 91% isopropyl alcohol will be used to clean the glass tags before implantation. Nitrile gloves (non-latex) will be available.
Implant location – I would highly recommend the webbed area between the thumb and index finger; http://amal.net/?p=516
Cancer? – Not likely… no human has shown any sign of cancerous growth since VeriChip started implanting people in 2004. More information here regarding my thoughts on the RFID cancer scare.
Removal/Replacement – The EM4102 does not have an anti-migration coating on it and is therefore relatively easy to remove. For more info, click here; http://amal.net/?p=3540
UPDATE 1! – What's that? You didn't have a chance to get implanted at ToorCamp? Now you can buy your own kit! Complete DIY implantation kits are now for sale at Dangerous Things!
UPDATE 2! – A DIY guide is now available at http://amal.net/?p=3837!