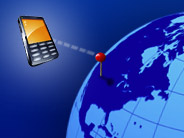 When people think somehow "they" are able to track me by RFID implant, aside from trying to explain the limitations of the technology and the actual effective range of the implant (2 inches), I also point out that cell phones are able to pinpoint your exact whereabouts at any time. Private companies providing location based services pay a minimal fee to carriers to obtain people's cell phones' locations all the time… it's simple to do.
Wireless carriers using CDMA networks, such as Verizon Wireless and Sprint Nextel, tend to use embedded GPS technology to fulfill E911 requirements. AT&T and T-Mobile comply with E911 regulations using network-based technology that computes a phone's location using signal analysis and triangulation between towers.

T-Mobile, for instance, uses a GSM technology called Uplink Time Difference of Arrival, or U-TDOA, which calculates a position based on precisely how long it takes signals to reach towers. A company called TruePosition, which provides U-TDOA services to T-Mobile, boasts of "accuracy to under 50 meters" that's available "for start-of-call, midcall, or when idle."
Now the FBI wants that same level of access, and then some.
Even though police are tapping into the locations of mobile phones thousands of times a year, the legal ground rules remain unclear, and federal privacy laws written a generation ago are ambiguous at best. On Friday, the first federal appeals court to consider the topic will hear oral arguments (PDF) in a case that could establish new standards for locating wireless devices.

In that case, the Obama administration has argued that warrantless tracking is permitted because Americans enjoy no "reasonable expectation of privacy" in their –or at least their cell phones'– whereabouts. U.S. Department of Justice lawyers say that "a customer's Fourth Amendment rights are not violated when the phone company reveals to the government its own records" that show where a mobile device placed and received calls.