I've not been serious about my photography hobby for quite some time, but since I bought my first digital camera back in 1992 (Sony DSC-1 640×480 or 0.3 megapixel max resolution), I've taken over 25,000 photos, 5000 or so that have been taken "recently" which still need to be named and sorted. I started sorting through some of those pictures and looking at old ones already digitally filed away. The pictures below are a very simple collection of shots that caught my eye. I took these back when I had the time to gallivant around with my digital SLR. These days I'm lucky to get in a few camera phone shots per week.
This shot can either look amazing or amazingly stupid depending on the assumptions you might have about it. If you assume I set this shot up on purpose then it looks kind of stupid, but if you knew this shot was a total accident, the randomness of it somehow seems to vindicate what appears to be an entirely cliché and utterly amateur approach toward photographic art.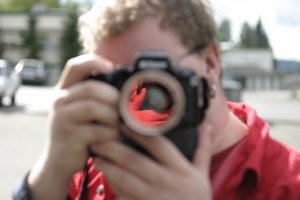 I was contacted by a fellow hobby photographer who wanted to go out shooting. We spent the day shooting people and scenes. For our last shots of the day we eyed each other from across the parking lot like a couple of old western frontiersmen at high noon. Without a word we slung up our guns, took aim, and shot each other. I just happened to win that showdown thanks to a telephoto lens with a lightning fast auto-focus that has no idea what it should be focusing on.
Bellingham, WA has a great park down by the water where I took these shots of my friend walking down to the water's edge over 4 years ago. They still are a couple of my favorite shots.
I've always loved cats, and this cat is one of the most well behaved cats when it comes to shoving things in it's face. She will put up with just about anything… which is why I was always shoving my camera in her face… because she let me.
This woman I met back when I was a member of the Arlington, WA Rotary club and was heavily involved in the RYLA program. Through local Rotary clubs, the RYLA program takes applications from promising youth leaders from various communities and brings them together to help them be better people and therefore, better leaders. I was involved with the program for 8 years, one of which I met this interesting young woman.
Aside from the wonderful spark she had, I was particularly interested in her hair. Due to a set of genetic circumstances, it was very prematurely gray. It was not dyed or colored in any way, it was simply gray… gray and beautiful. I did a whole series of shots with her on some benches at the WWU campus, but these two are a couple of my favorites from that session.
Of course, I have to save my best for last. I'm not particularly impressed with composition of these photos, or the framing, or an allusion to some private meaning only the photographer could know. The reason I love these shots is due entirely to the subject, my wonderful wife who puts the flowers to shame with her inspiring beauty.
Tags: photography