On my way to work today I finally noticed some of the names on the political signs that have been posted all over town. I had to laugh as I came to two consecutive stop signs which stood watch over two different political signs of two unfortunately named men running for a superior court judge position.
First we have Joe "You Lie" Wilson (association):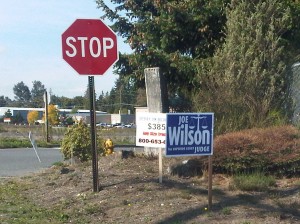 Then there's Scott "The Killer" Peterson (association):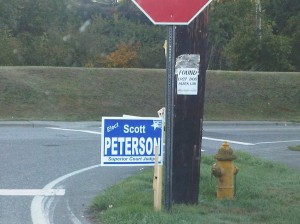 It got me thinking… is negative name recognition really a bad thing for politicians if you aren't "the guy"? Does the simple fact that somewhere deep in people's brains they know the name "Scott Peterson" from somewhere have any effect over them when it comes time to vote? My guess is that it probably gives these guys a bit of an edge, regardless of the negative association.
The real question is, who gets the better bump? The guy with the more recent media event attached to his name, or the more distant event who's details have probably faded from the minds of the masses? I'd have to side with the latter.