I just wanted to say, coming from a digital SLR user like myself, I never thought I would actually have a good use for and appreciate the quality of a camera-phone camera. For the most part, the digital cameras built into mobile phones have, for me, always been relegated to taking stupid snaps of people for my phone contact list… just so I can see their goofy mug pop up when they call. If I ever wanted to take any kind of actual picture I'd want to save for posterity, I always had to bring at least my Canon Elph point-and-shoot.
After getting my hands on the BlackBerry Curve with white LED "flash", I've noticed myself taking more and more candid snaps of things… and saving them in my photo archive as honest to goodness pictures. Of the hundreds of thousands (and I mean 100k +) pictures I have stored since I got my first digital camera back in 1998, I have actually only ever got prints made of less than 0.1% of them. That, coupled with my deep desire to keep photography as a fun hobby, lead me to realize I was wasting my time and hard drive space bothering to pack around a quality camera for what ultimately end up being simple snapshots of everyday events. Who needs crystal clear, properly framed shots if the soul purpose of the photo is to be stored and recalled during a trip down memory lane a few years later.
The final nails in my point-and-shoot's coffin boil down to quality and convenience. The camera built into the BlackBerry is crap, but the public (myself included) has had our quality standards consistently lowered to the point where we now accept grainy, shaky, pixellated, and ultimately unintelligible mobile phone videos as "quality news footage". There was a time not so long ago that "broadcast quality video" meant something… but my point is; people don't care about quality, they only care about the story. If quality was a factor, YouTube would not have amounted to anything. Likewise, I found that for 99.9% of my photos, quality was not a factor… only the story.
As for convenience, my phone is with me everywhere… at all times… even when I sleep so I can catch alarms if server rooms start to melt down. What truly converted me was the fact that I started using it all the time, even if I had my point-and-shoot within reach. A few days ago I was searching for an SD card to store some files on and I pulled the memory card out of my trust Elph, only to discover the last photo I took on it was over 6 months old. I decided to put the Elph in a drawer and leave it there, and to venture out into the world with only my camera phone by my side.
Now, with my trusty (new status) camera phone, I keep snapping quality photos (quality=good story)… photos where the meaning is not lost in the fuzz and grain… photos like these: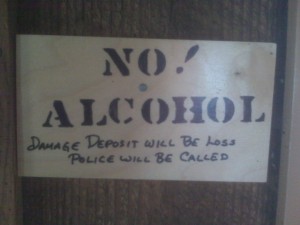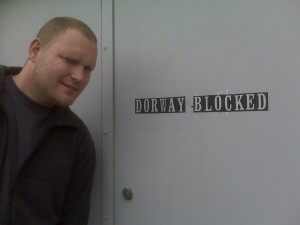 These aren't funny signs, just funny sights I came across in my daily travels.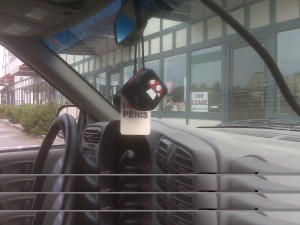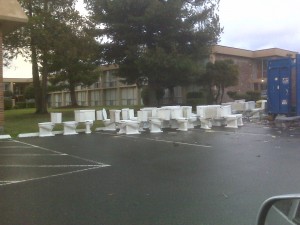 Tags: cameras, funny, grammar, photography