I've dicked around for years trying various wireless headsets for my computer, and it's never ever been a good reliable experience. Ever. I gave up on the whole idea of a happy wireless headset experience, until someone cleaning out their office just gave me their old headset. It sat in a pile of junk for a few months, and I almost threw it out… but oh man am I happy I pulled it out and tried it. I can honestly say:
The Jabra Pro 900 rules!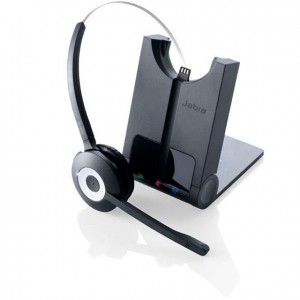 Here are all the things I love about this headset:
It's wireless, but like, really wireless. I can walk around my whole house with this thing and it works perfectly.
It's lightweight, and can sit on my head/ear for the whole day without causing "sore ear" syndrome.
It's USB, so it works perf with laptops & desktops, and when unplugged your regular speakers kick in.
It's got its own stand, so I can slam it down on that pony when I'm not using it and it get's a recharge.
It's got sic drivers that integrate directly with skype and over a dozen other personal comms software apps.
It's got a button, which works with those sic drivers to do stuff, like answer or hang up skype calls without having to trudge back to your computer (did I mention I can be anywhere in the house and talk on this thing?)
You should probably get one.