Ok, I admit it… I'll watch Beauty and the Beast once in a blue moon… you know, if I walk in and it's already playing… and I wouldn't stop someone from putting it on if they already had it out of the case… I mean, who am I to upset the apple cart if things are already in motion?
So why is this post in the newly created Personal Health category? Well, I felt this was coming for a while, but today it hit me full face. I'm old now. Yep, gone are the days of youthful disregard for safety measures, blatant spite in the face of post-injury pain, and the ability to heal in a fraction of the commonly accepted time. I remember the days when I could ride my dirtbike all day long out in the empty lots and wooded areas behind my parents' rural home, falling off or crashing into a tree every 10 minutes, and still keep on riding until sunset… then get up the next day and do it all over again.
As I approached my late 20s I knew things were changing, and my body was starting to show signs that it wasn't made of rubber after all. Bouncing back became harder, and injuries became stressful events as task lists and income deficits mounted while I was lying around trying to heal. But I always convinced myself that it was my own fault for carrying too much weight and leading the typical sedentary IT/tech life. I know it didn't help to be out of shape, but it also wasn't entirely to blame for my body's lack of enthusiasm when it came to repairing itself.
I'm in my early 30s now, and for a while there I was fit and happy.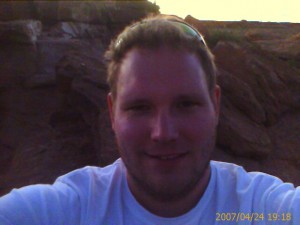 I them married one of the most wonderful people I've ever met…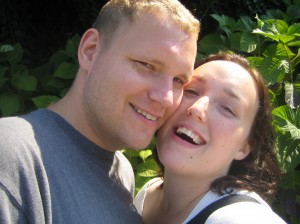 …and as many couples do, quickly transitioned from "fit and happy" to "fat and happy".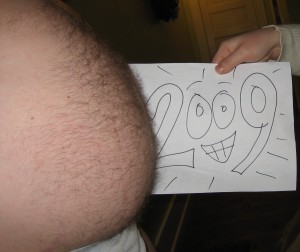 Well, my current fitness situation didn't help me out much yesterday. In fact, I think it's partly to blame. I've done some growing up a bit since the days of dirtbike riding, and so have my tastes in motorcycles. I currently ride a 2005 Hayabusa, which has enough speed and power to kill anyone foolish enough to push it.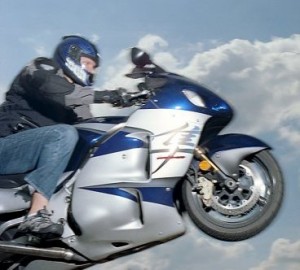 Fortunately for me, yesterday I was doing quite the contrary. I just had a new back tire put on, and was riding out of the service center parking lot… and forgot the number one rule of new tires on a sportbike; new tires need to be broken in.
When I pulled out of the parking lot at only 5 miles an hour, as I turned right the rear tire kicked out from under me. As the bike laid down on to it's right side, my natural instinct was to get really loose, let off the throttle, and stand up on the left peg so my right leg wouldn't be pinned. Just as I was in the middle of completing that maneuver, the back tire caught traction and this heavy 1300cc sportbike that was only inches from hitting pavement on it's right side, like a pole vaulter, stopped in it's tracks and flipped entirely up and over, smashing straight down on it's left side and tossing me up in the air like a circus clown. As I was coming down I tried to roll out of it and keep myself headed toward the curb instead of flat on my face out in traffic. I did a complete shoulder roll and ended up back on my feet right next to the curb, but I'm not as flexible as I used to be so I started off that roll by smashing my entire 280 pounds down on my left shoulder and ripping my scapula from my clavicle. It's known as a type III AC separation.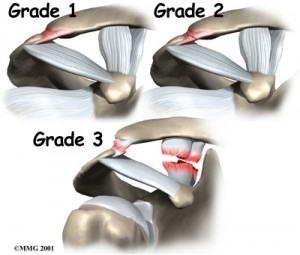 Of course, immediately after the accident I was totally numb. I knew something was wrong, and I wanted to get myself and the bike home as quickly as possible… before it really started to hurt. Like a typical idiot, I grabbed the bike and lifted it off the ground, which probably made things worse up in the shoulder region. At 5 miles an hour it didn't really do anything to the bike but snap off the clutch handle about 1/4 way up and scratch up the ferring a bit. I got back on and rode home slowly, being mindful of turns and further opportunities for disaster. Once I got home I immediately took off my gear and inspected the damage.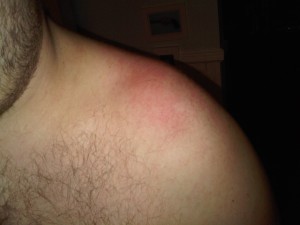 I had a huge bump coming up out of my left shoulder (bad angle in the photo), about half way between my neck and my shoulder socket and was hoping it was just a severe contusion. After a few cycles of ice and heat, I wasn't feeling too much pain. It was late, and there was no way I wanted to pay the price to go to the ER, so I propped myself up on the couch and fell asleep. This morning I woke up and the bump was gone, but the arm was nearly immobile. If I so much as blinked I got a sharp knife-like pain in my shoulder. Well, I knew something was seriously wrong at that point and made an appointment to see the doc.
I was hoping it was a broken bone… remarkably it was to be my first ever. Bones are amazing because they actually heal to a state stronger than they originally were. Nothing else in your body does that… nothing ever returns to 100%. Unfortunately my hopes were dashed after getting an x-ray taken.
The image confirmed it, I had a classic 3rd degree AC separation. I completely tore my clavicle away from my scapula. This was not good news… but I guess it could have been worse. Luckily this injury is common among sporty types, and I found a few good resources out there that basically laid out a recovery plan for me. Even though it's suggested, I don't want to get any kind of surgery to repair the damage. Often surgical solutions tend to trade short term gains for long term problems, and I still feel my body, aged as it is, is the best repair specialist I know.
So now I'm facing months of recovery, physical therapy, and possibly surgery if deemed absolutely necessary. All this has really got me thinking hard about my personal health and how I've been neglecting my body, it's age, and all the new considerations and requirements that come along with it. So why am I posting these details in a public forum? I'm not sure really… maybe it's because I simply can't afford to keep my personal health and road to recovery a private matter. I'm certainly glad all those other people out there with AC separation injuries didn't.
Tags: health