There are a lot of great images from 2009, but what caught my eye today was this image:
Why it's such a surprising tragedy when a bull "fighter" gets what's coming to him is beyond me. After sticking the bull with several sharp spears, the bull finally gets a shot at spearing his opponent. Too bad this a-hole didn't die on the "field of battle"… he's still alive and kickin, ready to kill more bulls in slow torturous ways for the purpose of entertainment!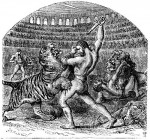 Speaking of killing for entertainment… They used to do it the right way. They used to push half naked gladiators into a dirt pit filled with a whole gaggle of real predators with only a knife… and often times the gladiator lost. Today it's one bull, a single goddamn herbivore, against a sissy in a cape with some sharp spears which are longer than the bull's only weapon, it's horns. The bull has no teeth, no claws, and it can't even rear up on it's hind legs to kick for crying out loud… it's like a putting a 40 year old sex offender in a ring with a baby and watching the guy bludgeon the baby to death with his cock… come to think of it, bullfighting fans would probably get off on that too.
All I'm saying is, if you're going to get your rocks off watching one animal kill another, you might as well make it even odds. You a-holes could learn a thing or two from Micheal Vick… at least he knew how to set up a fair fight.