I don't know if it's Rick (the author) or the graphic designer who's the one that can't tell their right from their left, but it is an interesting article all the same.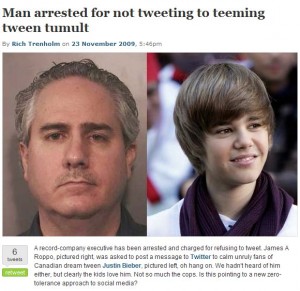 Some record exec refused to calm an unruly crowd of tweens via twitter and was arrested. Kind of Seinfeld–esc if you ask me.
Roppo, senior vice president of Island Def Jam Records, was asked by police to send a tweet saying the event had been cancelled. He refused, and was charged with — get this — felony assault, as well as endangering the welfare of a child, obstruction of governmental administration, reckless endangerment and criminal nuisance. He has since pleaded not guilty.
What makes me want to go on a mommy killing spree is, well, the mothers there bitching on camera. Retards raising retards if you ask me. Luckily nobody is.